SAVE YOUR TUB • SAVE YOUR BATHROOM WALLS • SAVE YOUR BACK
Open 7 Days a week: 5AM — Midnight
Sage's Dog Wash of Miles City, Montana is the best place in southeastern Montana to wash your dog. Sage's Dog Wash is built around the amazing K-9000 Dog Wash system. This fantastic system has been engineered, tested and developed expressly for people to wash their dogs efficiently, comfortably and effectively – and K-9000 Dog Wash systems keep pets, show dogs and working dogs clean and healthy all across the country. Sage's Dog Wash has the only K-9000 Dog Wash system in the region and it's available for your use 7 days a week!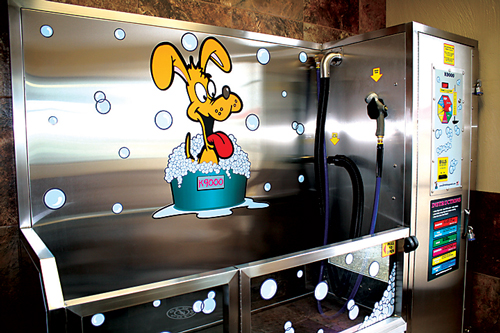 When you wash your dog at Sage's Dog Wash in Miles City:
You'll have all the warm water you'll need
You get a long, flexible, suspended hose and spray head that'll easily reach everywhere on your dog for a complete clean – even in hard to get-to places
An easy on/off controller for the water/shampoo flow
Flea & tick shampoo dispensed directly from the sprayer
Adjustable water flow and pressure settings
An easy access, elevated, walk-in enclosure to wash your dog in – so you won't have to kneel or bend down to a tub – and you won't have to pick your dog up, either!
A quick-connect system that lets you attach your dog's collar to the inside of the dog wash: this prevents accidents and makes washing much easier for both you and your dog
A commercial dog dryer with a long, flexible hose – and adjustments for temperature and air flow. You quickly dry the dog while it is still inside the safe washing enclosure on the K-9000 Dog Wash system. When your dog comes out of the enclosure it's clean, flea and tick free and fluffy dry!
Bring your dog into Sage's Dog Wash in Miles City, Montana for a uniquely enjoyable dog washing experience. Your whole family will appreciate having their best friend clean and loveable – and you'll love not hurting your back or dirtying up the bathroom. Sage's Dog Wash – the place to go when you want a clean, happy dog.